Roofing Contractors
Dover
Specialist roofing contractors serving domestic clients in Dover & the surrounding areas
Roofers in

Dover

Kent
At Folkestone Roofing Services we cover all of areas of Kent. If you require a reliable and trustworthy roofing contractor in Dover then we are here to serve you. Some of the services we offer include:
Our Roofing Services
Whether you are carrying out a renovation project or possibly building a new property and need a reliable roofing contractor; you can rest assured that Folkestone Roofing Services are here to take care of all your needs.
There are many factors that need to be considered when designing a new roof, all of which we will carry out to make sure you are left with a highly energy-efficient roof that will last for many years to come.
We can replace all types of domestic roofs, including:
Pitched Roof

Felt Roof

Hip Roof

Gable Roof

Three Layer Flat Roof

Slate Roof

Any required style of domestic roof
We also install any roof covering to suit your needs, including conventional tiles, Kent Peg Tiles, Slate Tiles, and felt.
A roof repair is essential for keeping your property in good condition, and the sooner it is carried out, the better to potentially prevent additional repairs from being required.
At Folkestone Roofing Services, our team have been carrying out roofing repairs for many years, and we can pinpoint roofing issues promptly and get them resolved efficiently.
Often, a roofing repair is not as bad as people anticipate it to be. With our totally transparent way of doing business, you can rest assured that we will only carry out precisely what is necessary; or what our clients request from us.
As well as roof repairs, we also cater for lead flashings, so if your leadwork also needs some TLC, we can take care of it.
We understand that most people do not want to climb on the roof to inspect the affected area. For this reason, we can take a video recording of the issue for you to view, so you can see what the problem is before commencement.
At Folkestone Roofing Services, we offer comprehensive roofing inspections. This is not the same as one of our free surveys, which is specifically targeted at the works you require.
Our roofing inspections service starts from £250.00 + VAT, and we will check over the complete roof and give you our findings. This can be ideal if you are purchasing a property or simply want a full breakdown of the current condition of your roof. Along with the roof, we will also check the condition of the fascias and soffits and pinpoint any areas of concern.
It is surprising the number of roof inspections that we have carried out which have allowed house buyers to negotiate roofing repair costs into their purchase prices. Feel free to contact us anytime to discuss how we can help you.
Please check out these services and if we can be of help then feel free to get in contact anytime to discuss your roofing project.
We understand that finding a reliable local roofing contractor can be difficult, and our goal is to become known as the 'go to' roofers in Folkestone, and also Dover, and surrounding areas of Kent including Drellingore.
We cover all of Dover and the surrounding areas of Kent. If you found our site by searching for 'roofing near me' or 'roof repair near me' then we almost certainly will cover your area too.
Whatever your requirements are, please get in touch anytime, and we will deal promptly with your needs.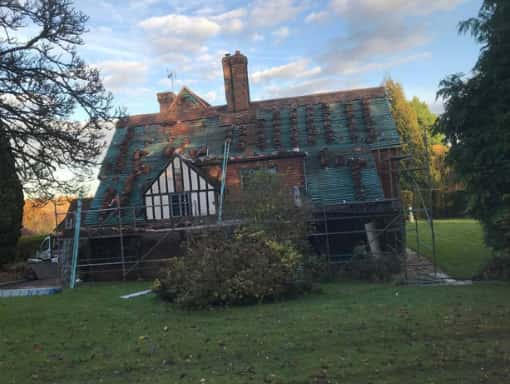 We support all local businesses, and below are some attractions in Dover and the surrounding areas.